But in the end it was the likes of Liz Watson, Kate Moloney and veteran shoots Caitlin Thwaites and Tegan Philip who saw their club to the win on the back of an 18-9 last term.
"It's just good to be back," Moloney said.
"We've been stuck inside for two weeks and it's been a long eight months. The build-up was big, I was proud of the effort we put out there.
"We knew they are a new team, new combination so we thought we could get past late."
The Vixens had their sharp passing game going in the first quarter as they took a 12-8 lead, with Mwai Kumwenda looking dangerous in the goal-circle.
Loading
The first 'Super Shot' period in the last five minutes of the opening term saw the Vixens strike first before Magpies goal attack Sinclair shot two long shots in a row to cut the lead to 15-13 at quarter time.
The Vixens had much of the play but not enough of the scoring in the second term and it came back to bite them as the Magpies again reeled in the lead with Allen scoring late in the term to see the scores tied 29-29 at half time.
Melbourne broke away to start the third term leading by four goals but it didn't last. Sinclair again caught fire in the last five minutes shooting two super goals as the Vixens went into the last term up 45-43.
With both teams tiring, the Vixens put defender Jo Weston into wing defence and began to control play in the middle of the court. Thwaites and Philip made their shots to push their lead to 61-52 with two minutes to play.
The Vixens know they can shoot better from the two-point shot after shooting just 10 of 20 from distance, the Magpies shot just six of nine from outside but Sinclair looked dangerous when presented with Super Shots.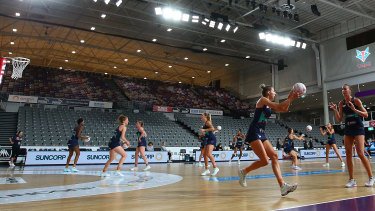 The Magpies were left without starting shooter Shimona Nelson as she is still clearing quarantine after having a 'low-risk' contact with someone who has COVID-19.
Nelson tested negative to having the virus but needed to stay in Melbourne for five days before being allowed to join her side in Queensland on July 23.
Nelson will return to the playing group this week and she will be a welcome addition for round two.
Roy Ward is a Sports writer for The Age.